Hottest Social Media Platforms in China
You might think that Facebook and Twitter are already occupying the social media space world wide,  However, in China they are blocked. When it comes to Social Media Marketing in China, you must use different tones to communicate with your Chinese audience on their own Social Media platforms, such as Weibo (equivalent of Facebook and Twitter in China), especially Sina Weibo, Tencent Qzone (equivalent of Facebook and Twitter in China), Tencent QQ (Instant Message tools), Tencent Wechat (Mobile communication and private social networking app), Renren (equivalent of Facebook in China) and Youku & Tudou (equivalent of YouTube in China).
What instead?
Out of all of these multiple social media services, the hottest two are weibo and wechat. One is public and the other one is more private, So people usually use these two at the same time.
How did these two social media become popular?
Weibo
For the past twenty years the way that people interact with internet and their friends has been changing all the time. The progression has been: visiting websites and forums by using web browser -> personal blogs by URL -> desktop chatting applications -> mobile applications.
At the time that people had personal blogs and used mobile phones for browsing, Sina found it was hard for people to read blogs with a phone and difficult for users to remember multiple blog's links. So they started developing a platform for mobile phones so that users can read everyone's posts as well as reply to them all in the same place. Also Sina made a web application as well as a mobile application, and it dominated the market in short order.
There are some key functions in Weibo:
As a user, you can not only follow people but also organizations to receive new posts, and they can be searched by topic.

As a user, you can post photos, text, video and live video.

You also can write review of places, books, movies and music.

As a user, you can discover nearby places, on sale products and you can even buy directly with the Weibo app.

You can also can find fun things to do and book a trip including hotel, car and flight.

But basically Weibo is very similar to Twitter and has some Facebook functions.
Wechat
Next, I want to talk about a more interesting Chinese social platform. Wechat:
Wechat was developed by Tencent. Before Wechat, Tencent already had a highly used desktop chatting application call QQ. It had a lot of interesting features, like QQ pets, tiny games, personal chatting bubble, personal avatar decorations, personal blog, blog decoration, and some other features that are similar with Weibo. But most of them are link buttons that will redirect the user to the browser. And when people tried using the app in mobile, it didn't work well. So Tencent developed a lighter and more mobile friendly chatting application. That's how Wechat was born.
Like QQ, Wechat has a lot of tiny plugins; it is not just a chatting app. It is an very interesting app and I'd love to talk about some of its most interesting features.
Private social network/li>
You can only read your friends' posts, and people can only read comments from their own friends. So if user A has two friends B and C, but B and C are not friends, when A posts. Even though B and C can read it, C cannot read B's comments under A's post.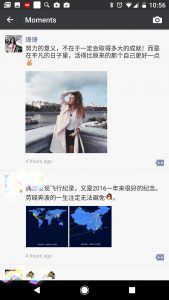 Almost no advertisements
You only get the subscribed advertisements, and it's usually from your friends. You can also block them if you want. Or you can have your own Wechat store to sell your products.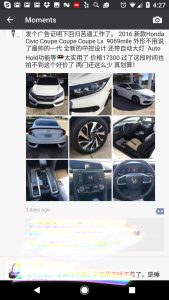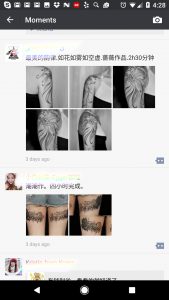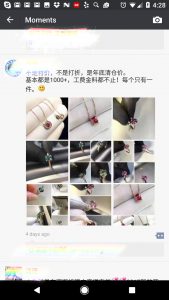 Easy to use.
Even my grandparents have started using it, and we can make video calls and do group chatting on Wechat. It makes the family much closer to each other.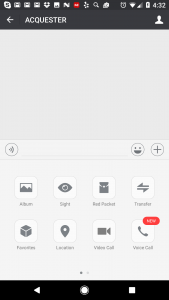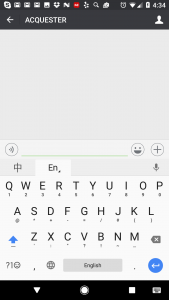 Interesting way to meet new friends
Shake the phone and you can know who's shaking at the same time with you, and also you can set the distance. It provides a better beginning for people trying to date, because when people shake at the same time it means they have time to chat now. This feature makes Wechat become super popular among young people like college students.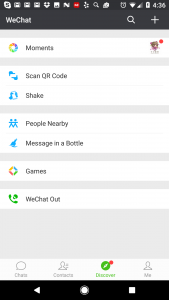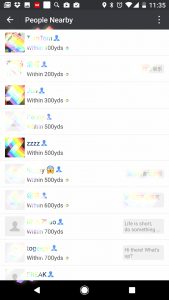 Lucky Money
Later, after more and more older people started using the app, It added a feature to send money to others. It makes traditional Chinese New Year more interesting. Because in China, people  used to get "Lucky Money" only from married older people, and you could only get it when you meet with them. The Lucky Money feature breaks down this barrier. You can give and get Lucky Money from anyone. And you can also use the money to buy stuff.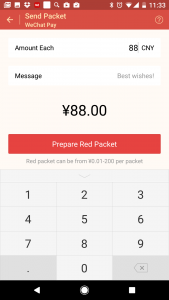 Livetime location sharing
This is the feature that I consider as the most useful one, when I hang out with my friends, but the place that we planned to meet is not quite accurate, it saves us a lot of time to find each other. You can see where you and they are on map at the moment.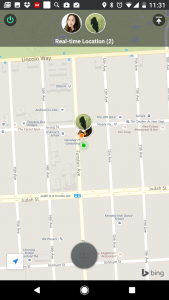 Wechat wallet
You can put money into wechat wallet, like the Lucky Money you get from your friends or the money that you get from selling your products. Then you can use this money to pay your electric or gas bills. Because in China, paying bills was not as convenient as America; you had to pay it at a government building. Wechat brings a lot of convenience to life.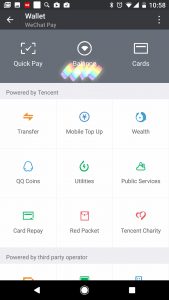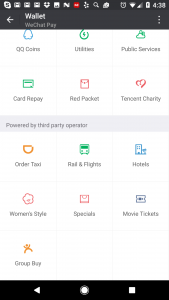 Weibo and Wechat are the two hottest social media apps in China. The secret why  they have so many users is not that users have no other choices, but because they occupied the market early and have many features that users like.