Turn Your Macbook into a Blender
A decade or so ago the idea of running a full 3D software suite on a mac laptop was pretty much unheard of. Processor speed and memory were the greatest obstacles, and the aggregate of 3D software for the Macintosh platform was rather limited, as well as expensive.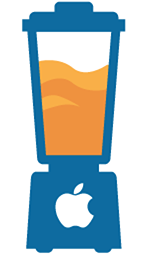 Today there are many 3D options available for the Mac. There's Maya, Cinema 4D, LightWave, Carrera to name a few. With super hi-speed processors and gigabytes of RAM packed into most notebook computers, many of these portables matching or out-classing some desktops, running a 3D app on a Macbook today is no problem. The only caveat is that most 3D software is still pretty expensive! With it being totally viable to run a 3D Software app on your Mac notebook one  only real obstacle today that might be keeping you from modeling and animating your way to digital contentment  would be cost, right?
Well, say hello to Blender.
With Blender, the Open Source 3D app, you can model and animate in 3D for no cost. That's right, zero dollars will get you all the 3D-Deliciousness you could hanker after, sidestepping costly tools such as the Maya and such, while still being able to achieve high-quality results.  Blender has all the features you'd expect to find in a professional 3D suite including robust modeling tools, UV texturing, rigging and skinning, fluid, particle and smoke  simulation, animation, camera tracking, rendering, video editing and compositing. Additionally Blender  features a nifty built-in game engine that is fun to play around with regardless of whether  you are making a game.

Blender has been around for many years now. I arrived pretty late to the game having been first introduced to Blender about 3 years ago.  Back at that time, although I intrigued, I wasn't inclined to begin using the software, hesitating in part due to my cozy familiarity with Cinema 4D and Maya environments, and somewhat befuddled by an interface that was not quite on par with the commercial 3D apps.
Having recently been re-introduced to Blender, I was happy to learn that in 2011, the Blender interface underwent a complete overhaul. No longer befuddled, my experience using other 3D app environments simply reinforced my comprehension of Blender. I soon found myself right at home in the tender solace of the Blender interface, which quickly became as familiar as the comfy hollows of my once beloved Cinema 4D.
So, back to the Macbook. With hardware on lap and Blender software on-screen, downloaded at no cost, I was ready to get modeling.. or was I? To my dismay the Macbook Pro's trackpad has no built-in emulation for a Middle mouse button. A Middle Mouse button is essential to using Blender. Many 3D programs require three mouse buttons or a right-click, left click and middle click to navigate the 3-D space.  In the case of Blender these buttons by default control zooming, rotation and orbit of the 3D space and panning.
Fortunately there are some terrific third-party apps that extend utility of the mac trackpad.  Among them are Better Touch Tool and MagicPrefs which both make for no fuss alteration of the trackpad allowing for that essential emulation of a middle mouse button.  Each of these apps have some distinct features, but they both allow you to achieve the same ends of adding that Middle mouse button functionality. Give them both a try to see which one suits you best.
Blender has builds for pretty much every contemporary configuration out there. If you use a Macbook, desktop, laptop, Windows or Linux there is a free Blender download available for you. So go and grab yourself a copy of Blender here: http://www.blender.org/download/get-blender/ 
Now, if you don't have much experience with 3D software – fear not! Blender.org has a wealth of resources that will have you up and Blender-ing in no time.
So go on…
Get it!